12 Fun Things to Do in Santorini, Greece
Santorini offers a wide variety of fun things to do and we compiled a list with the twelve most interesting activities to try in Santorini island:
Most people go to Oia Village to enjoy the sunset. If you happen to be at Oia during the sunset, you will see hundreds of people sitting on the rock, trying to get as many photos as possible and they even clap when the sun goes down completely…
You can do better than that.
You can enjoy the sunset even better if you go on a cruise around the island with a Catamaran. 
The cruise lasts 5 hours and there is a barbecue prepared for you. The catamaran passes in front of the Red and the White Beaches, which are always a joy to swim in, especially when you jump from a boat. 
The cost is rational, at 95 euros per person and you can book it here. You will also get unlimited drinks – though not beer, just wines and ouzo- so that you will have the chance to watch the sunset at Oia, as dizzy as possible. 
What's better than that?
Santorini is a volcano island and it is famous for its strange wines.
 Actually, the most well-known wine from Santorini is called "Vinsanto" and it is like a Porto wine; it is sweet with a strange accent. 
I will admit that most people have a love or hate relationship with the wines of Santorini. If you would like to find out in which camp you belong, you have to go on this four-hour tour, to the three best wineries in the island of Santorini.
The cost is around 90 euros per person, including transportation and pick-up from your hotel or from your cruise ship. 
You can book the four-hour wineries tour in Santorini, here.
#3 Go to the Volcano of Santorini (don't worry,  it will probably not explode this summer..)
You simply cannot leave Santorini without going to the volcano…It has no bars, restaurants, swimming pools but how often do you walk on a Volcano in your home city in London or New York? 
You will even have the chance to see some steam getting out from the holes. No lava drama for all you adventurous photographers. 
Just get this cruise, and go to swim in the thermal waters of the volcano (hint: if you are into an intimate relationship or on your honeymoon, you should know that the smell from the thermal water leaves your body after a couple of days, and it is not the most pleasant one in the world.. the waters have something sulfonic or bad chemistry and it smells like an old egg..), walk on the volcano and get some nice views of Santorini from the opposite side of the caldera. 
You will be transferred from Santorini's main island to the volcano, with a traditional boat, which is called "Kaiki". It is a wooden boat that was used by the fishermen all over Greece for many years. 
This fun thing to do in Santorini will set you back only 40 euros per person (come on..your hotel room must cost a small fortune..) and you can book it here.
The world is always prettier when you see it from a helicopter. 
Oh! And some greek literature lessons. The world Helicopter is a greek one and it comes from the two greek words "Elikas" and "pterugio" which mean, something that turns around and has wings. 
So, if you want to do a marriage proposal on the air, just above the caldera of Santorini, or if you want to impress your significant other, or if no one loves you in this life and you want to spoil yourself by consuming all your money, then you can just grab this helicopter tour. 
It costs 1200 euros for 5 persons, so it is around 250 euros per person for half an hour. You can book your helicopter flight tour to Santorini here. 
Of course, as always, the sunset in Santorini is like Coca-Cola: It matches well with everything. 
Yes, yes..you got it, you smart ladies…You can go on this helicopter tour during the sunset…
#5 Go on a Sailing Tour in Santorini
If you are the Marco Polo of tourists (or was it Christopher Colombus…hmmm, I always forget what is the difference between these two..), then you will want to grab a sailing boat and enjoy the perfectly blue waters of Santorini..
Hmm, well, they are a little bit dark blue (or even black) due to the volcanic stones but that's another story. So, back to our discussion, get this five-hour sailing tour around Santorini island. You will also get BBQ and lunch.
 To play the adventurous sailor, you will need to divorce yourself from 145 euros, which is actually 14 months of Netflix subscriptions. And now with the new Episodes of House of Cards hitting our screens, I know it will be a difficult decision to make. 
On the other side, you will get at least 1000 likes from posting your sailor-selfies on Facebook, which might be a thing for you. 
Book your Santorini Sailing Tour here (we are affiliates and we are getting commissions from each booking you make; what would you think? that we would get in all this trouble promoting fun things, without having a little fun ourselves? but don't worry, it's not our greek uncle who owns the boat).
#6 Go on a Santorini Cooking Class
You have seen it on TV, ate it at some miserable copycat "greek" restaurants in other countries and now you have the chance of your life! 
The Greek food is among the best in the world and you can learn how to cook and prepare it. 
This is what should be taught at Harvard and Universities around the world…no artificial intelligence, machine learning, and strange algorithmic theories… 
Don't worry, you will not need a PhD to learn how to combine the tomato, with the onions and the feta cheese to make a perfect Greek salad. 
Get the crabs out of your pockets and pay 150 euros to get this cooking class (they also get you to some wineries to make it easier for you to forget the price). Book your Santorini Cooking Class Here.
Ok, I admit it. I hate sea kayaking and whatever transportation vehicle does not have an engine and makes you sweat to move (hello bicycles…do you hear me?). 
But I know that there are some strange persons on earth, that want to go on vacation and get as much tired as possible. 
So, for all you kayak aficionados out there, here is your chance. You can kayak in the Natura protected area of Santorini, do some snorkeling and have fun…
. Book your Santorini Kayaking Tour here.
 #8 Go on a Donkey Tour in Santorini

For the ones amongst you that don't have a monthly subscription to WWF, let us inform you that a Donkey is like a short horse with a stubborn character. 
And a Donkey is always fun to ride. Especially in Santorini, where it can get you to places that you would need to drive an enduro Motocross to reach.
You will also have some wine (never drink a lot when driving a Donkey) and some snacks.
To book your donkey your, go to www.donkeys. gr (the autocorrect was turning this link to monkeys. gr which would have had even more fun I guess.maybe that's a new business idea for you to explore, on a drunken night in Santorini)
#9 Do Wave Sports in Perissa

Jet ski, bananas, and other.. You can also do jet ski safaris, which start from Perissa and go to the Red beach or to the Volcano.
Go to http://www.wavesports.gr/ for more information.
Fun Things to Do in Santorini/Nightlife:
If you are a party island and you are looking for fun things to do in Santorini during the nightlife of the island, you should know that Santorini is not Mykonos or Ios, hence it does not offer the same "crazy" nightlife style that other islands do. 
On the other side, it's not dull. Here is a couple of fun things to do in nightlife:
#10 Go to Koo Club in Santorini, Fira Village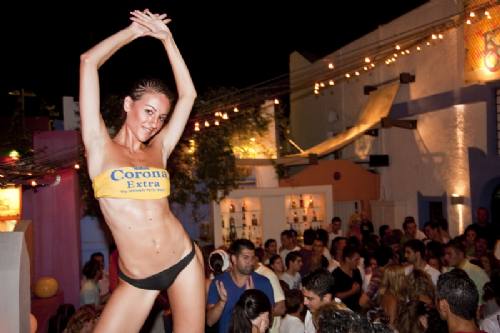 Koo club is the most famous club in Santorini and you will find it in Fira Village. 
It is full of people during the nights and sometimes it hosts nice parties. 
You can see from the picture that it is often preferred by beer sponsors (hey guys, don't tell me you didn't see the "Corona" label on the yellow t-shirt..I am sure you were paying attention to the club). 
The address of the club is 25hs Martiou, 303 in Fira Village. 
#11 Go to Chilli Beach Bar in Perissa
Chilli bar is a beach bar in Perissa. Usually, it is quiet and peaceful, yet it sometimes transforms itself into a crazy party place during the afternoon and evenings. 
Ask the owners before you try to go there, to find out which are the best days for parties. 
Certainly, if you hit it on the right day, it's a lot of fun. Usually, the parties start at 19:00 or 20:00, and the people come to the beach bar with their swimming suits. 
Mostly people from 20 to 35 but if you are young at heart, you should give it a chance!
#12 Go to Enigma Club
The Enigma Club in Fira village, is part of the history of the island. It's more or less the same story with the Koo club.
Parties and dancing may keep until the early morning hours. 
That's all folks. Have fun in Santorini and let us know if you find more fun things to do on this amazing island!
30 Frequently Asked Questions about Santorini
Which is Closer to Athens: Mykonos or Santorini?
12 Fun Things to Do in Santorini
What to Do in Santorini in 3 Days
Athens to Santorini: Should You get a Ferry or a Plane?