If you are visiting Paris for the first time, you might be asking yourself what the best place to stay in Paris is.  Of course, the best area (arrondissement) of Paris for you depends on whether you are traveling alone, with kids or family, for nightlife, sightseeing, history, shopping, restaurants, local ambiance or a little bit of everything.
Pas de Probleme! As the French say..Read below to discover what area of Paris suits your interests best.
Here is a quick reference guide:
Best Area to Stay in Paris with Kids and Family: Opt to stay at the Arrondissements of Saint Germain or Marais.
Best Area to Stay in Paris for Nightlife: Stay at the Arrondissement of Canal St-Martin or La Villette
Best Area to Stay in Paris for First Time Visitors: Stay at Arrondissement Rue Cler. Or at the Marais which is more chic.
Best Area to Stay in Paris for Couples and Romance: Opt to stay at the Arrondissement of the Montmartre area.
Best Area to Stay in Paris for Luxury: Opt to stay in the Arrondissement of Champs Elysees.
Best Area to Stay in Paris for the Overall Atmosphere: Stay at the Arrondissement of the Marais area.
Best Area to Stay in Paris to Relax: Stay at the Arrondissement of the Quartier Latin (many students, laidback area).
Best Area to Stay in Paris for History Lovers: Stay at the Paris Arrondissement of Saint Germain
Best Area for Local Life: Stay at the Paris Arrondissement of Belleville
Here is a more detailed guide on where you should stay based on your preferences:
A. General Tips to Choose the Best Area (Arrondissement) to Stay in Paris
Paris doesn't have one single area that is close to all its main touristic sites. You will have to choose. Paris is divided into "arrondissements." If you decide to stay somewhere between the 3rd and 7th arrondissements you will find yourself pretty near the major touristic attractions of Paris, especially if you visit it for the first time. Of course, you will need to do a lot of walking and sometimes get the tube or the public buses. If you choose to stay in the other arrondissements, you will have to use the tube and the public transportation, much more often.
Here is an image of the Paris Arrondissements with main attractions in each one of them.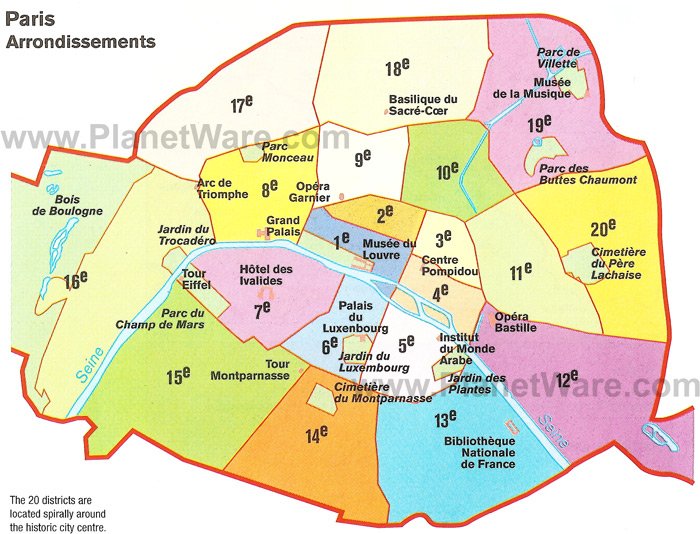 The second thing you should keep in mind is this:
Paris is pretty well connected via its metro tube, so you should try and find an area and a hotel that will be as close as possible to a metro station.
Here is a map of the metro stations of Paris:
1. Montmartre
If you are into arts and culture, you will enjoy staying at Montmartre, as it's probably the artsiest neighborhood of Paris. Although quite touristic, it will still make your artistic endeavors much easier. It's very expensive, so you may want to find a room through Airbnb. The drawback is that it is not one of the safest areas in Paris, so if you wish to go out late in the evening to have a drink out you should be careful of pickpockets. Montmartre offers the best hostels in Paris, so it is also ideal for backpackers.
2. Latin Quarter (5th Arrondissement)
Very touristic and it gets noisy in the night. You will be close to many attractions, though. Latin Quarter is the area where most French teenagers hang out in the evening, and you will also find a lot of students in its bars.
3. St Germain (6th Arrondissement)
St Germain is pretty close to walking to most of the sights of Paris and has a lovely and vibrant area with many bars and restaurants to enjoy. Moreover, it is pretty close to the Seine. If you stay there, don't miss the Montparnasse tower, which offers a great view. Go there for lunch.
4. Tour Eiffel – Trocadero (7th Arrondissement)
Trocadero and Tour Eiffel area is a nice, safe and quiet area. It's obviously pretty near the main sight of Paris, Tour Eiffel but it's quite far from the real heart of Paris. If you stay out late in the evening, you will have to pay a lot for the taxis to take you back to the hotel, as you may not be able to catch the last tube. Please keep in mind that this area doesn't offer a lot of things to do in the night.
5. Marais (3rd arrondissement)
Marais is quite common for people who visit Paris for the first time, so it gets pretty touristic. It is cheaper than the other places and a beautiful part of it to stay at is near the Picasso Museum and Rue Oberkampf. Visit http://www.parismarais.com/3-star-hotels-in-le-marais-paris.htm for more information. Unfortunately, Marais is very pricey, so it's hard to find a conveniently priced hotel to stay here if you are on a tight budget.
6. Ile St Louis
Ile St Louis is a small island that feels like a small village, just across the bridge of Notre Dame. It is ideally located in the center of Paris. It gets pretty busy during the day and soundless in the evening. It also offers some great views of the Seine.
You can also get a five days Travel Itinerary to Paris at Guidora.com, by clicking here.