The 6 most Romantic Restaurants in Athens, Greece
Yes, I know..When you think of Paris you think of Romance..and when you think of Athens, you are thinking about Acropolis, souvlaki, museums, ancient staff and the islands close to it…Romance does not even make it to the top 5 things people have on top of their mind about Athens.
But! I can assure you that there are some great places in Athens, that could make even Paris get jealous of them…I compiled a list for your reference and it is highly recommended that if you pay a visit to Athens, you visit at least one of them with your beloved partner.
General Tip: You can make a reservation for free to some of these restaurants through https://www.e-table.gr/en 
So, let's get start our romantic journey:
#1: Island Restaurant in Varkiza, Athens Riviera.
Description: This is a restaurant that always reminds me of being on an island, especially the ones in the Cyclades, with the white, paved roads. It's a restaurant built on top of a rock, next to the sea of Athens. It's about 25kms from the center of Athens, so it's not that easy to reach this if you haven't rented a car. The taxi could easily be 25-30 euros to take you there from the center of Athens. The food is nice, even though overpriced and the view is amazing. Late in the evening, there is an open space bar that plays nice music and Island turns into a fancy music club. This is not a place for the budget-seeking food and romance lovers. You should expect to pay at least 60 euros per person for your dinner and another 5 euros for your parking in the area.
Here are a couple of photos from Island Restaurant:
Reservations: Yes, you should reserve a table, especially in the summer period. Don't go here in the winter it's too cold (and usually the restaurant is closed)
Website: http://www.islandclubrestaurant.gr/
#2 Orizontes Lykavitou Restaurant
Description: Lykavitos is the highest hill in the center of Athens. You need a cable car to go there and once you reach the top you can have the best view of the whole Athens area, all over to the sea. You can also enjoy Acropolis, with its magnificent lights, in the evening and if you are lucky to get a full moon, the evening will have an amazing scenery to start with. The food is very nice, not spectacular but it's a good price for the whole experience you get. You can get a set menu from around 30 euros per person. Please bear in mind that you will have to get a cable car to get to the restaurant and the ticket costs 15 euros for both ways for one person but you can mention that you are going to the restaurant (and not just to visit the hill) and if you have a reservation made under your name, the ladies that operate the cable car will double-check it with their list and the price for the ticket will get down from 15 euros per person to 10 euros per person.
Here are some fotos from Orizontes Lycabettus Restaurant: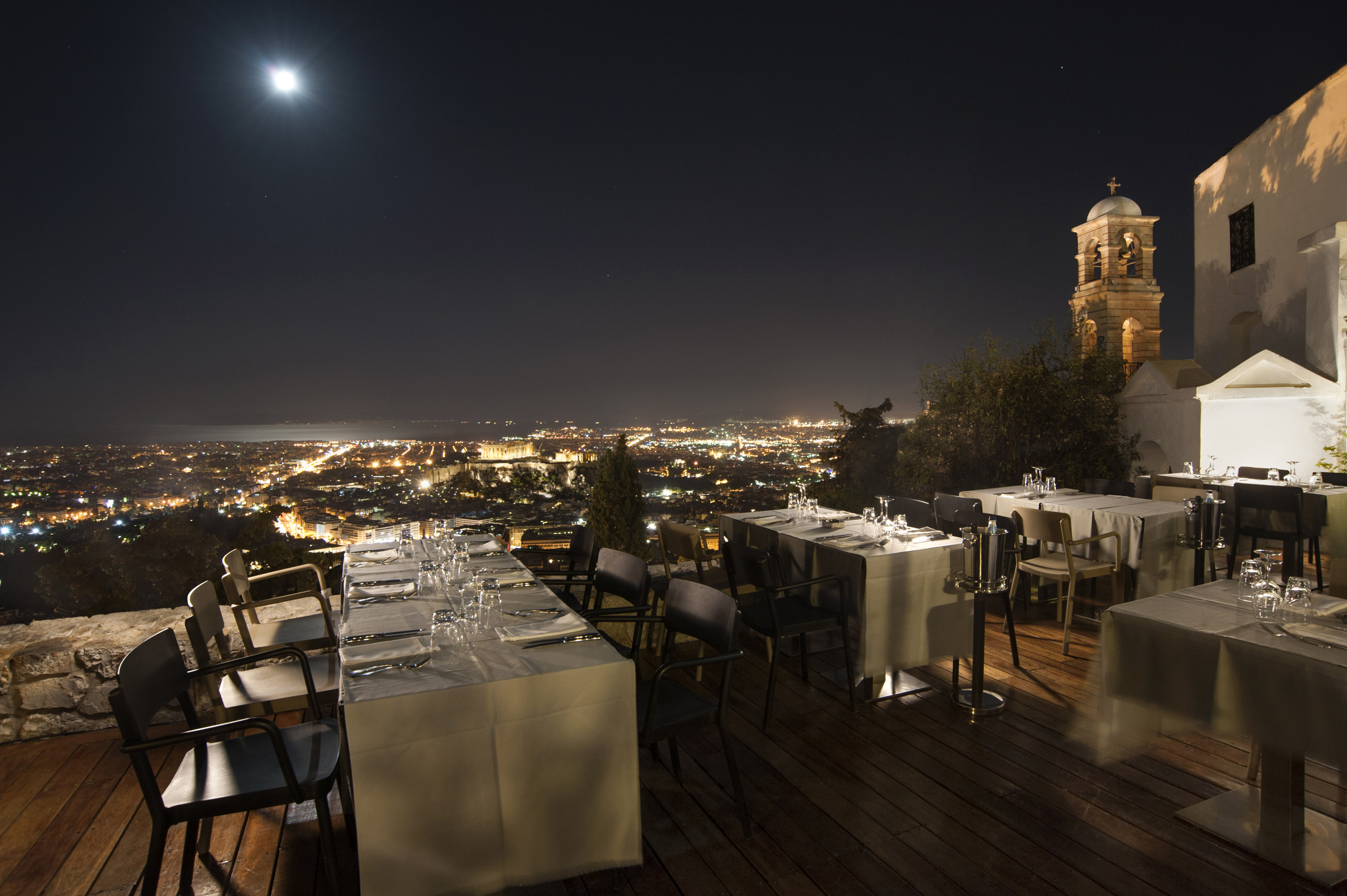 Tip: Ask to be seated outside and on the verge of the restaurant so that you get the best view. Do NOT sit inside the restaurant, as you will most probably miss the experience of the amazing scenery.
Orizontes Lycabettus Menu: You can get it at http://www.orizonteslycabettus.gr/main-menu/
Website: http://www.orizonteslycabettus.gr
#3 Matsuhisa Restaurant in Athens
This restaurant is located in a fantastic area, in "Asteras Vouliagmenis" beach in Athens and offers amazing views during the evening, towards the Athens Riviera. It serves sushi and Japanese finger food and it is quite expensive – you should expect to pay at least 70 euros per person for a normal dinner.
Website: http://www.matsuhisaathens.com/ 
Menu: http://www.matsuhisaathens.com/menus-2/
#4 Varoulko Seaside Restaurant
Varoulko restaurant is owned by probably the most well-known Greek Chef, Mr. Lazarou, who specializes in fish dishes. This gourmet restaurant is in Piraeus and next to the sea. Although it does not offer the same amazing views with the previous 3 restaurants mentioned above, we have this in the list as it is a nice combination of delicious food and scenery. It is also expensive and you should expect to pay around 60 -80 euros per person for your dinner.
Website: www.varoulko.gr
#5 Dionysos Zonars Restaurant
If you want to enjoy the magnificent view of Acropolis, while eating a great traditional greek food dinner, you should visit Dionysos restaurant. You should expect to pay more than 50 euros per person for your dinner.
Website: http://www.dionysoszonars.gr/
#6 Acropolis Museum Restaurant
This is a budget solution, mainly suitable for lunch. You can visit the Acropolis museum and tell to the ticket office that you only want to visit the restaurant, which is on a balcony that offers an amazing view to Acropolis. It is a budget friendly place where you can have a decent lunch with 20 euros per person, although the "restaurant experience" that it offers cannot be compared to what you get from the previous 5 restaurants. But this is the best solution if you are doing sightseeing in Acropolis and in Plaka/Monastiraki and you still want to enjoy your lunch in a place with great views.
Website: http://www.theacropolismuseum.gr/en/content/cafe-restaurant 
That's all from us! We hope you enjoy your romantic lunch or dinner in Athens and drink a glass of Ouzo to our health!